Dodge Charger: Inside Rearview Mirror / Automatic Dimming Mirror — If Equipped
The rearview mirror can be adjusted up, down, left, and right. The mirror should be adjusted to center on the view through the rear window. This mirror automatically adjusts for headlight glare from vehicles behind you.
NOTE:
The Automatic Dimming Mirror feature is disabled when the vehicle is in REVERSE to improve the driver's rear view.
The Automatic Dimming feature can be turned on or off through the Uconnect system.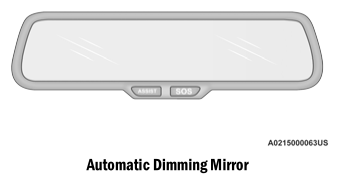 CAUTION!
To avoid damage to the mirror during cleaning, never spray any cleaning solution directly onto the mirror. Apply the solution onto a clean cloth and wipe the mirror clean.