Dodge Charger: STARTING AND OPERATING / ELECTRIC POWER STEERING
The Electric Power Steering system will give you good vehicle response and increased ease of maneuverability in tight spaces. The system will vary its assist to provide light efforts while parking and good feel while driving. If the electric steering system experiences a fault that prevents it from providing assist, you will still have the ability to steer the vehicle manually.
WARNING!
Continued operation with reduced assist could pose a safety risk to yourself and others. Service should be obtained as soon as possible.
If the Electric Power Steering Fault Warning Light is displayed and the "SERVICE POWER STEERING" or the "POWER STEERING ASSIST OFF – SERVICE SYSTEM" message is displayed within the instrument cluster display, this indicates the vehicle needs to be taken to the dealer for service.
NOTE:
Even if the power steering assistance is no longer operational, it is still possible to steer the vehicle. Under these conditions there will be a substantial increase in steering effort, especially at low speeds and during parking maneuvers.
If the condition persists, see an authorized dealer for service.
If the Electric Power Steering Fault Warning Light is displayed and the "POWER STEERING SYSTEM OVER TEMP" message is displayed on the instrument cluster screen, they indicate that extreme steering maneuvers may have occurred which caused an over temperature condition in the power steering system. Once driving conditions are safe, pull over and let the vehicle idle for a few moments until the Electric Power Steering Fault Warning Light and message turn off.
This feature offers improved fuel economy by shutting off four of the engine's eight cylinders during light load and cruise conditions. The system is automatic with no driver inputs or additional driving skills required...
Your vehicle may be equipped with the Cruise Control system, or the Adaptive Cruise Control (ACC) system: Cruise Control for cruising at a constant preset speed...
Other information:
To minimize the possibility of unintentionally locking a Passive Entry key fob inside your vehicle, the Passive Entry system is equipped with an automatic door unlock feature which will function if the ignition switch is in the OFF position. The following situations will trigger a FOBIK-Safe search in any passive entry vehicle: A lock request is made by a valid Passive Entry key fob while a door is open...
T..
Categories
The headlight switch is located on the left side of the instrument panel. This switch controls the operation of the headlights, parking lights, instrument panel lights, and fog lights (if equipped).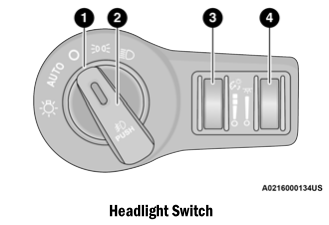 Rotate Headlight Control Push Front Fog Light Control Instrument Panel Dimmer Control Ambient Light Dimmer Control