Dodge Charger 2011-2022 Owner's Manual
Dodge Charger 2011-2022 Owner's Manual
Owners Manual for seventh generation Dodge Charger, a four-door sedan built by Dodge, model years 2011-2022. This Owner's Manual has been prepared with the assistance of service and engineering specialists to acquaint you with the operation and maintenance of your vehicle. It is supplemented by customer-oriented documents. Following the instructions, recommendations, tips, and important warnings in this manual will help ensure safe and enjoyable operation of your vehicle.

Symbols Key WARNING! - These statements are against operating procedures that could result in a collision, bodily injury and/or death. CAUTION! - These statements are against procedures that could result in damage to your vehicle...
Other information:
If you are leaving your vehicle dormant for more than 3 weeks, you may want to take these steps to protect your battery. Disconnect the negative cable from the battery. Anytime you store your vehicle, or keep it out of service (e.g., vacation) for two weeks or more, run the air conditioning system at idle for about five minutes in the fresh air and high blower setting...
WARNING! Do not pile luggage or cargo higher than the top of the seatback. This could impair visibility or become a dangerous projectile in a sudden stop or collision. Folding Rear Seat The rear seatbacks can be folded forward to provide an additional storage area...
Categories
The headlight switch is located on the left side of the instrument panel. This switch controls the operation of the headlights, parking lights, instrument panel lights, and fog lights (if equipped).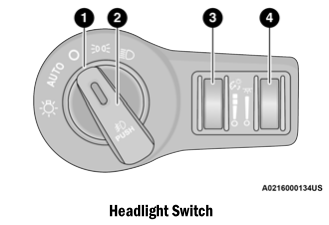 Rotate Headlight Control Push Front Fog Light Control Instrument Panel Dimmer Control Ambient Light Dimmer Control