Dodge Charger 2011-2023 Owner's Manual
Dodge Charger 2011-2023 Owner's Manual
Owners Manual for seventh generation Dodge Charger, a four-door sedan built by Dodge, model years 2011-2023. This Owner's Manual has been prepared with the assistance of service and engineering specialists to acquaint you with the operation and maintenance of your vehicle. It is supplemented by customer-oriented documents. Following the instructions, recommendations, tips, and important warnings in this manual will help ensure safe and enjoyable operation of your vehicle.

Symbols Key WARNING! - These statements are against operating procedures that could result in a collision, bodily injury and/or death. CAUTION! - These statements are against procedures that could result in damage to your vehicle...
Other information:
3.6L AND 5.7L ENGINES These vehicles are equipped with an automatic oil change indicator system. The oil change indicator system will remind you that it is time to take your vehicle in for scheduled maintenance. Based on engine operation conditions, the oil change indicator message will illuminate...
To order the following manuals, you may use either the website or the phone numbers listed below. Service Manuals These comprehensive Service Manuals provide a complete working knowledge of the vehicle, system, and/or components and is written in straightforward language with illustrations, diagrams, and charts...
Categories
The headlight switch is located on the left side of the instrument panel. This switch controls the operation of the headlights, parking lights, instrument panel lights, and fog lights (if equipped).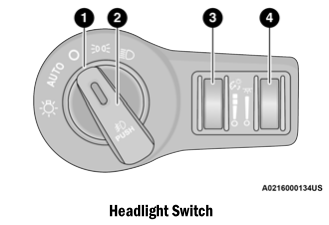 Rotate Headlight Control Push Front Fog Light Control Instrument Panel Dimmer Control Ambient Light Dimmer Control