Dodge Charger 2011-2023 Owner's Manual
Dodge Charger 2011-2023 Owner's Manual
Owners Manual for seventh generation Dodge Charger, a four-door sedan built by Dodge, model years 2011-2023. This Owner's Manual has been prepared with the assistance of service and engineering specialists to acquaint you with the operation and maintenance of your vehicle. It is supplemented by customer-oriented documents. Following the instructions, recommendations, tips, and important warnings in this manual will help ensure safe and enjoyable operation of your vehicle.

Symbols Key WARNING! - These statements are against operating procedures that could result in a collision, bodily injury and/or death. CAUTION! - These statements are against procedures that could result in damage to your vehicle...
Other information:
Park the vehicle on a firm, level surface as far from the edge of the roadway as possible. Avoid icy or slippery areas.WARNING! Do not attempt to change a tire on the side of the vehicle close to moving traffic. Pull far enough off the road to avoid being hit when operating the jack or changing the wheel...
WARNING! Exhaust gases can injure or kill. They contain carbon monoxide (CO), which is colorless and odorless. Breathing it can make you unconscious and can eventually poison you. To avoid breathing (CO), follow these safety tips: Do not run the engine in a closed garage or in confined areas any longer than needed to move your vehicle in or out of the area...
Categories
The headlight switch is located on the left side of the instrument panel. This switch controls the operation of the headlights, parking lights, instrument panel lights, and fog lights (if equipped).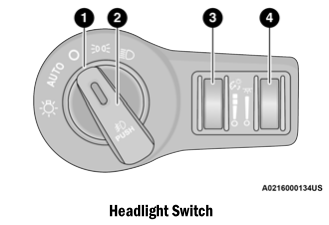 Rotate Headlight Control Push Front Fog Light Control Instrument Panel Dimmer Control Ambient Light Dimmer Control