Dodge Charger: OCCUPANT RESTRAINT SYSTEMS / Knee Impact Bolsters and Supplemental Driver Knee Air Bag
Knee Impact Bolsters
The Knee Impact Bolsters help protect the knees of the driver and front passenger, and position the front occupants for improved interaction with the front air bags.
WARNING!
Do not drill, cut, or tamper with the knee impact bolsters in any way.
Do not mount any accessories to the knee impact bolsters such as alarm lights, stereos, citizen band radios, etc.
Supplemental Driver Knee Air Bag
This vehicle is equipped with a Supplemental Driver Knee Air Bag mounted in the instrument panel below the steering column. The Supplemental Driver Knee Air Bag provides enhanced protection during a frontal impact by working together with the seat belts, pretensioners, and front air bags.
Categories
To access an illuminated vanity mirror, flip down one of the visors and lift the cover.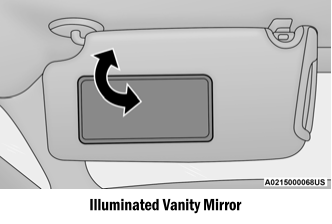 Sun Visor "Slide-On-Rod" Feature — If Equipped
The sun visor "Slide-On-Rod" feature allows for additional flexibility in positioning the sun visor to block out the sun.
Fold down the sun visor. Unclip the visor from the corner clip. Pivot the sun visor toward the side window. Extend the sun visor for additional sun blockage.
Copyright © 2023 www.docharger.org