Dodge Charger: OCCUPANT RESTRAINT SYSTEMS / Occupant Restraint Systems Features
Seat Belt Systems
Supplemental Restraint Systems (SRS) Air Bags
Child Restraints
Some of the safety features described in this section may be standard equipment on some models, or may be optional equipment on others. If you are not sure, ask an authorized dealer.
Please pay close attention to the information in this section. It tells you how to use your restraint system properly, to keep you and your passengers as safe as possible...
Other information:
The instrument cluster display will show the current ACC system settings. The information it displays depends on ACC system status. Push the Adaptive Cruise Control (ACC) on/off button until one of the following appears in the instrument cluster display: Adaptive Cruise Control Off When ACC is deactivated, the display will read "Adaptive Cruise Control Off...
Opening The Trunk The trunk may be opened in several ways: Power trunk release button on the instru- ment panel Trunk button on the key fob Trunk Passive Entry button External release switch located on the under- side of the decklid overhang NOTE: The release feature will function only when the vehicle is unlocked...
Categories
The overhead console is equipped with an ambient light feature. This light illuminates for improved visibility of the floor and center console area.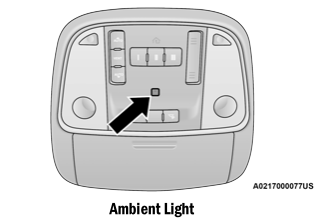 Copyright © 2023 www.docharger.org