Dodge Charger: OCCUPANT RESTRAINT SYSTEMS / Occupant Restraint Systems Features
Seat Belt Systems
Supplemental Restraint Systems (SRS) Air Bags
Child Restraints
Some of the safety features described in this section may be standard equipment on some models, or may be optional equipment on others. If you are not sure, ask an authorized dealer.
Please pay close attention to the information in this section. It tells you how to use your restraint system properly, to keep you and your passengers as safe as possible...
Other information:
The rearview mirror can be adjusted up, down, left, and right. The mirror should be adjusted to center on the view through the rear window. Headlight glare from vehicles behind you can be reduced by moving the small control under the mirror to the night position (toward the rear of the vehicle)...
Some models may be equipped with a manual front passenger seat. The seat can be adjusted forward or rearward by using a bar located by the front of the seat cushion, near the floor. While sitting in the seat, lift up on the bar located under the seat cushion and move the seat forward or rearward...
Categories
The overhead console is equipped with an ambient light feature. This light illuminates for improved visibility of the floor and center console area.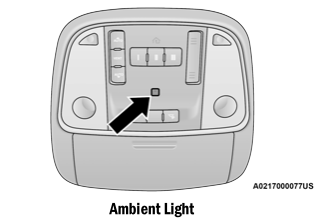 Copyright © 2023 www.docharger.org