Dodge Charger: OCCUPANT RESTRAINT SYSTEMS / Occupant Restraint Systems Features
Seat Belt Systems
Supplemental Restraint Systems (SRS) Air Bags
Child Restraints
Some of the safety features described in this section may be standard equipment on some models, or may be optional equipment on others. If you are not sure, ask an authorized dealer.
Please pay close attention to the information in this section. It tells you how to use your restraint system properly, to keep you and your passengers as safe as possible...
Other information:
Reformulated Gasoline Many areas of the country require the use of cleaner burning gasoline referred to as "reformulated gasoline". Reformulated gasoline contains oxygenates and are specifically blended to reduce vehicle emissions and improve air quality...
When stuck in mud, sand, snow, or ice conditions, do not spin your vehicle's wheels above 30 mph (48 km/h) or for longer than 30 seconds continuously without stopping. WARNING! Fast spinning tires can be dangerous. Forces generated by excessive wheel speeds may cause tire damage or failure...
Categories
The overhead console is equipped with an ambient light feature. This light illuminates for improved visibility of the floor and center console area.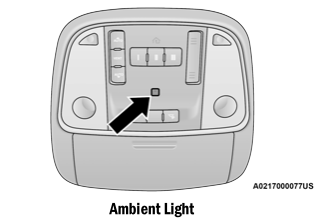 Copyright © 2022 www.docharger.org