Dodge Charger: OCCUPANT RESTRAINT SYSTEMS / Occupant Restraint Systems Features
Seat Belt Systems
Supplemental Restraint Systems (SRS) Air Bags
Child Restraints
Some of the safety features described in this section may be standard equipment on some models, or may be optional equipment on others. If you are not sure, ask an authorized dealer.
Please pay close attention to the information in this section. It tells you how to use your restraint system properly, to keep you and your passengers as safe as possible...
Other information:
In certain driving situations, ACC may have detection issues. In these cases, ACC may brake late or unexpectedly. The driver needs to stay alert and may need to intervene. The following are examples of these types of situations: Towing A Trailer Towing a trailer is not recommended when using ACC...
NOTE: Refer to the chart at the end of this section for suggested control settings for various weather conditions. Summer Operation The engine cooling system must be protected with a high-quality antifreeze coolant to provide proper corrosion protection and to protect against engine overheating...
Categories
The overhead console is equipped with an ambient light feature. This light illuminates for improved visibility of the floor and center console area.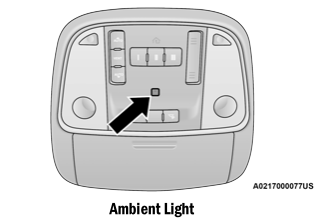 Copyright © 2022 www.docharger.org