Dodge Charger: SAFETY
Under certain conditions, the mobile phone being on in your vehicle can cause erratic or noisy performance from your radio. This condition may be lessened or eliminated by repositioning the mobile phone within the vehicle...
Other information:
When selected, this screen displays the following values: Oil TemperatureShows the actual oil temperature. Oil PressureShows the actual oil pressure. Coolant TemperatureShows the actual coolant temperature. Battery VoltageShows actual battery voltage...
CAUTION! Mixing of engine coolant (antifreeze) other than specified Organic Additive Technology (OAT) engine coolant (antifreeze), may result in engine damage and may decrease corrosion protection. Organic Additive Tech- nology (OAT) engine coolant is different and should not be mixed with Hybrid Organic Additive Technology (HOAT) engine coolant (antifreeze) or any "globally compatible" coolant (antifreeze)...
Categories
This feature allows you to tilt the steering column upward or downward. It also allows you to lengthen or shorten the steering column. The tilt/telescoping control is located below the steering wheel at the end of the steering column.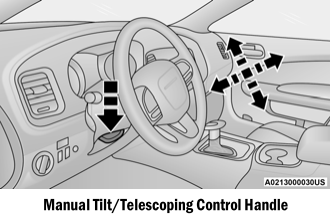 Copyright © 2023 www.docharger.org