Dodge Charger: TRUNK / Opening And Closing The Trunk
Opening The Trunk
The trunk may be opened in several ways:
Power trunk release button on the instru- ment panel
Trunk button on the key fob
Trunk Passive Entry button
External release switch located on the under- side of the decklid overhang
NOTE:
The release feature will function only when the vehicle is unlocked.
With the ignition in the ON/RUN position, the trunk open symbol will display in the instrument cluster indicating that the trunk is open. The odometer display will reappear once the trunk is closed.
With the ignition in the OFF position, the trunk open symbol will display until the trunk is closed.
Power Trunk Release Button

The trunk can be opened from inside the vehicle using the power trunk release button located on the instrument panel to the left of the steering wheel.
NOTE:
The transmission must be in PARK before the button will operate.
Key Fob Trunk Release Button

Push the power trunk button on the key fob twice within five seconds to release the trunk.
Passive Entry Button
Push the trunk passive entry button which is located on the right side of the trunk lid. With a valid Passive Entry key fob within 5 ft (1.5 m) of the trunk, push the passive entry button to open the trunk.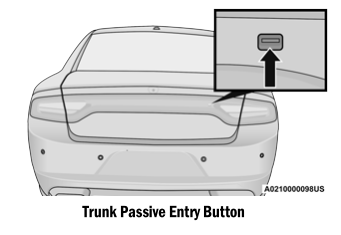 Closing The Trunk
With one or more hands placed on the outside trunk surface push the trunk lid down until you hear the trunk lock latch into place.
NOTE:
Before closing the trunk lid, make sure your key fob is not inside the trunk area. The trunk will latch then automatically unlock if the key fob is sensed, not allowing the key fob to be locked in the trunk area.
Trunk Emergency Release As a security measure, a trunk internal emergency release lever is built into the trunk latching mechanism. In the event of an individual being locked inside the trunk, the trunk can be opened by actuating the glow-in-the-dark handle attached to the trunk latching mechanism...
Other information:
Your vehicle is equipped with a sophisticated Onboard Diagnostic system called OBD II. This system monitors the performance of the emissions, engine, and transmission control systems. When these systems are operating properly, your vehicle will provide excellent performance and fuel economy, as well as engine emissions well within current government regulations...
WARNING! Launch Mode is intended for off-highway or off-road use only and should not be used on any public roadways. It is recommended that this feature be used in a controlled environment, and within the limits of the law. The capabilities of the vehicle as measured by the performance pages must never be exploited in a reckless or dangerous manner, which can jeopardize the user's safety or the safety of others...