Dodge Charger: TOWING A DISABLED VEHICLE / All Wheel Drive (AWD) Models
FCA US LLC recommends towing your vehicle with all four wheels OFF the ground using a flatbed.
If the transmission and driveline are operable, AWD models can also be towed with the ignition in the ON/RUN mode, the transmission in NEUTRAL (not in PARK!), and the rear wheels OFF the ground with no limitation on speed or distance. Since the ignition MUST be in the ON/ RUN mode to tow in this manner, AWD vehicles must be towed with ALL FOUR wheels OFF the ground (e.g. on a flatbed truck) if the key fob is unavailable.
CAUTION!
Towing this vehicle using any other method can cause severe transmission and/or transfer case damage.
Damage from improper towing is not covered under the New Vehicle Limited Warranty.
Categories
To access an illuminated vanity mirror, flip down one of the visors and lift the cover.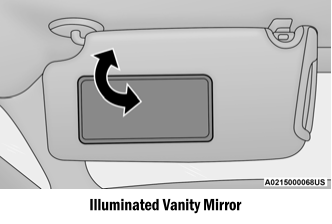 Sun Visor "Slide-On-Rod" Feature — If Equipped
The sun visor "Slide-On-Rod" feature allows for additional flexibility in positioning the sun visor to block out the sun.
Fold down the sun visor. Unclip the visor from the corner clip. Pivot the sun visor toward the side window. Extend the sun visor for additional sun blockage.
Copyright © 2023 www.docharger.org