Dodge Charger: TOWING A DISABLED VEHICLE / Rear Wheel Drive (RWD) Models
FCA US LLC recommends towing your vehicle with all four wheels OFF the ground using a flatbed.
If flatbed equipment is not available, and the transmission is operable, this vehicle may be flat towed (with all four wheels on the ground) under the following conditions:
The transmission must be in NEUTRAL (N). Instructions on shifting the transmission to NEUTRAL (N) when the engine is off.
The towing speed must not exceed 30 mph (48 km/h).
The towing distance must not exceed 30 miles (48 km).
If the transmission is not operable, or the vehicle must be towed faster than 30 mph (48 km/h) or farther than 30 miles (48 km), then the only acceptable method of towing is with a flatbed truck.
CAUTION!
Towing this vehicle in violation of the above requirements can cause severe transmission damage. Damage from improper towing is not covered under the New Vehicle Limited Warranty.
Categories
The glove compartment is located on the passenger side of the instrument panel.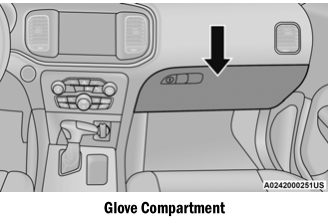 To open the glove compartment, pull the release handle.
WARNING!
Do not operate this vehicle with a glove compartment in the open position. Driving with the glove compartment open may result in injury in a collision.