Dodge Charger: VEHICLE LOADING / Loading
To load your vehicle properly, first figure out its empty weight, axle-by-axle and side-by-side. Store heavier items down low and be sure you distribute their weight as evenly as possible. Stow all loose items securely before driving. If weighing the loaded vehicle shows that you have exceeded either GAWR, but the total load is within the specified GVWR, you must redistribute the weight. Improper weight distribution can have an adverse effect on the way your vehicle steers and handles and the way the brakes operate.
NOTE:
Refer to the "Vehicle Certification Label" affixed to the rear of the driver's door for your vehicle's GVWR and GAWRs.
Refer to the "Tire Placard" for your vehicle's proper tire pressure.
Categories
To access an illuminated vanity mirror, flip down one of the visors and lift the cover.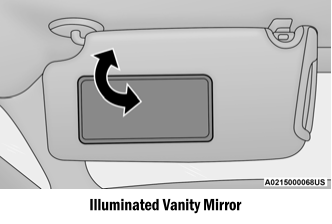 Sun Visor "Slide-On-Rod" Feature — If Equipped
The sun visor "Slide-On-Rod" feature allows for additional flexibility in positioning the sun visor to block out the sun.
Fold down the sun visor. Unclip the visor from the corner clip. Pivot the sun visor toward the side window. Extend the sun visor for additional sun blockage.
Copyright © 2023 www.docharger.org