Dodge Charger: Automatic Climate Control Descriptions And Functions / Mode Control, Panel Mode
Mode Control

Select Mode by pressing one of the Mode buttons on the touchscreen to change the airflow distribution mode. The airflow distribution mode can be adjusted so air comes from the instrument panel outlets, floor outlets, defrost outlets, and demist outlets.
Panel Mode

Air comes from the outlets in the instrument panel. Each of these outlets can be individually adjusted to direct the flow of air. The air vanes of the center outlets and outboard outlets can be moved up and down or side to side to regulate airflow direction. There is a shut off wheel located below the air vanes to shut off or adjust the amount of airflow from these outlets.
Categories
Some models may be equipped with a manual front passenger seat. The seat can be adjusted forward or rearward by using a bar located by the front of the seat cushion, near the floor.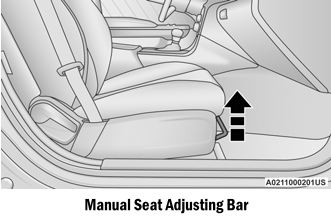 Copyright © 2023 www.docharger.org