Dodge Charger: OCCUPANT RESTRAINT SYSTEMS / Older Children And Child Restraints
Children who are two years old or who have outgrown their rear-facing convertible child seat can ride forward-facing in the vehicle. Forward-facing child seats and convertible child seats used in the forward-facing direction are for children who are over two years old or who have outgrown the rear-facing weight or height limit of their rear-facing convertible child seat.
Children should remain in a forward-facing child seat with a harness for as long as possible, up to the highest weight or height allowed by the child seat.
All children whose weight or height is above the forward-facing limit for the child seat should use a belt-positioning booster seat until the vehicle's seat belts fit properly. If the child cannot sit with knees bent over the vehicle's seat cushion while the child's back is against the seatback, they should use a belt-positioning booster seat. The child and belt-positioning booster seat are held in the vehicle by the seat belt.
WARNING!
Improper installation can lead to failure of an infant or child restraint. It could come loose in a collision. The child could be badly injured or killed. Follow the child restraint manufacturer's directions exactly when installing an infant or child restraint.
After a child restraint is installed in the vehicle, do not move the vehicle seat forward or rearward because it can loosen the child restraint attachments. Remove the child restraint before adjusting the vehicle seat position. When the vehicle seat has been adjusted, reinstall the child restraint.
When your child restraint is not in use, secure it in the vehicle with the seat belt or LATCH anchorages, or remove it from the vehicle. Do not leave it loose in the vehicle. In a sudden stop or accident, it could strike the occupants or seatbacks and cause serious personal injury.
Categories
To access an illuminated vanity mirror, flip down one of the visors and lift the cover.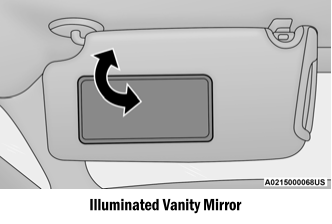 Sun Visor "Slide-On-Rod" Feature — If Equipped
The sun visor "Slide-On-Rod" feature allows for additional flexibility in positioning the sun visor to block out the sun.
Fold down the sun visor. Unclip the visor from the corner clip. Pivot the sun visor toward the side window. Extend the sun visor for additional sun blockage.
Copyright © 2023 www.docharger.org