Dodge Charger: SEATS / Heated Seats — If Equipped
WARNING!
Persons who are unable to feel pain to the skin because of advanced age, chronic illness, diabetes, spinal cord injury, medica- tion, alcohol use, exhaustion or other phys- ical condition must exercise care when using the seat heater. It may cause burns even at low temperatures, especially if used for long periods of time.
Do not place anything on the seat or seat- back that insulates against heat, such as a blanket or cushion. This may cause the seat heater to overheat. Sitting in a seat that has been overheated could cause serious burns due to the increased surface temperature of the seat.
Categories
The headlight switch is located on the left side of the instrument panel. This switch controls the operation of the headlights, parking lights, instrument panel lights, and fog lights (if equipped).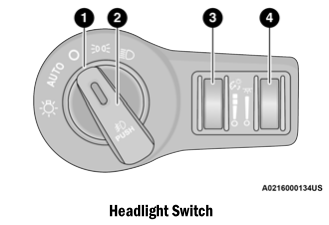 Rotate Headlight Control Push Front Fog Light Control Instrument Panel Dimmer Control Ambient Light Dimmer Control
Copyright © 2023 www.docharger.org