Dodge Charger: WINDOWS / Power Window Controls
The window controls on the driver's door control all the door windows.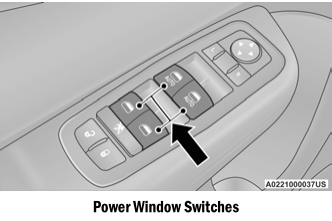 The passenger door windows can also be operated by using the single window controls on the passenger door trim panel. The window controls will operate only when the ignition is in the ACC or ON/RUN position.
To open the window part way (manually), push the window switch down briefly and release.
NOTE:
The power window switches will remain active for up to 10 minutes after the ignition is placed in the OFF position. Opening either front door will cancel this feature. The timing is program- mable within Uconnect Settings.
WARNING!
Never leave children unattended in a vehicle, and do not let children play with power windows. Do not leave the key fob in or near the vehicle, or in a location accessible to children, and do not leave the Keyless Enter-N-Go Ignition in the ACC or ON/RUN position. Occupants, particularly unattended children, can become entrapped by the windows while operating the power window switches. Such entrapment may result in serious injury or death.
Auto-Down Feature The driver and front passenger door power window switches have an Auto-Down feature. Push the window switch down to the second detent, release, and the window will go down automatically...
Other information:
..
The rearview mirror can be adjusted up, down, left, and right. The mirror should be adjusted to center on the view through the rear window. Headlight glare from vehicles behind you can be reduced by moving the small control under the mirror to the night position (toward the rear of the vehicle)...