Dodge Charger: OCCUPANT RESTRAINT SYSTEMS / Seat Belt Extender
If a seat belt is not long enough to fit properly, even when the webbing is fully extended and the adjustable upper shoulder belt anchorage (if equipped) is in its lowest position, an authorized dealer can provide you with a Seat Belt Extender. The Seat Belt Extender should be used only if the existing seat belt is not long enough. When the Seat Belt Extender is not required for a different occupant, it must be removed.
WARNING!
ONLY use a Seat Belt Extender if it is physi- cally required in order to properly fit the original seat belt system. DO NOT USE the Seat Belt Extender if, when worn, the distance between the front edge of the Seat Belt Extender buckle and the center of the occupant's body is LESS than 6 inches.
Using a Seat Belt Extender when not needed can increase the risk of serious injury or death in a collision. Only use the Seat Belt Extender when the lap belt is not long enough and only use in the recom- mended seating positions. Remove and store the Seat Belt Extender when not needed.
Categories
To access an illuminated vanity mirror, flip down one of the visors and lift the cover.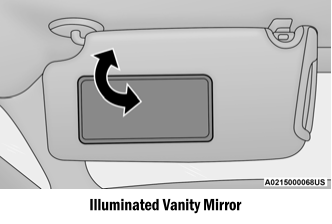 Sun Visor "Slide-On-Rod" Feature — If Equipped
The sun visor "Slide-On-Rod" feature allows for additional flexibility in positioning the sun visor to block out the sun.
Fold down the sun visor. Unclip the visor from the corner clip. Pivot the sun visor toward the side window. Extend the sun visor for additional sun blockage.
Copyright © 2023 www.docharger.org