Dodge Charger: VEHICLE LOADING / Vehicle Certification Label
Your vehicle has a Vehicle Certification Label affixed to the drivers side B-pillar or the rear of the driver's door.
The label contains the following information:
Name of manufacturer
Month and year of manufacture
Gross Vehicle Weight Rating (GVWR)
Gross Axle Weight Rating (GAWR) front
Gross Axle Weight Rating (GAWR) rear
Vehicle Identification Number (VIN)
Type of vehicle
Month, Day, and Hour of manufacture (MDH)
The bar code allows a computer scanner to read the VIN.
Categories
The headlight switch is located on the left side of the instrument panel. This switch controls the operation of the headlights, parking lights, instrument panel lights, and fog lights (if equipped).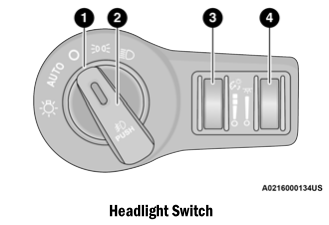 Rotate Headlight Control Push Front Fog Light Control Instrument Panel Dimmer Control Ambient Light Dimmer Control
Copyright © 2023 www.docharger.org