Dodge Charger: STARTING THE ENGINE / Automatic Transmission
The gear selector must be in the PARK position before you can start the engine. Apply the brakes before shifting into any driving gear.
CAUTION!
Shift into or out of PARK or REVERSE only after the vehicle has come to a complete stop.
Do not shift between PARK, REVERSE, NEUTRAL, or DRIVE when the engine is above idle speed.
Before shifting into any gear, make sure your foot is firmly pressing the brake pedal.
Categories
To access an illuminated vanity mirror, flip down one of the visors and lift the cover.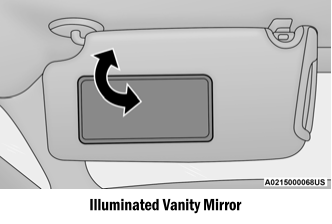 Sun Visor "Slide-On-Rod" Feature — If Equipped
The sun visor "Slide-On-Rod" feature allows for additional flexibility in positioning the sun visor to block out the sun.
Fold down the sun visor. Unclip the visor from the corner clip. Pivot the sun visor toward the side window. Extend the sun visor for additional sun blockage.
Copyright © 2023 www.docharger.org