Dodge Charger: VEHICLE MAINTENANCE / Fuses
WARNING!
When replacing a blown fuse, always use an appropriate replacement fuse with the same amp rating as the original fuse. Never replace a fuse with another fuse of higher amp rating. Never replace a blown fuse with metal wires or any other material. Do not place a fuse inside a circuit breaker cavity or vice versa. Failure to use proper fuses may result in serious personal injury, fire and/or property damage.
Before replacing a fuse, make sure that the ignition is off and that all the other services are switched off and/or disengaged.
If the replaced fuse blows again, contact an authorized dealer.
If a general protection fuse for safety systems (air bag system, braking system), power unit systems (engine system, trans- mission system) or steering system blows, contact an authorized dealer.
The fuses protect electrical systems against excessive current.
When a device does not work, you must check the fuse element inside the blade fuse for a break/melt.
Also, please be aware that when using power outlets for extended periods of time with the engine off may result in vehicle battery discharge.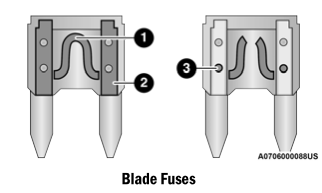 Fuse Element
Blade Fuse with a good/functional fuse element
Blade fuse with a bad/not functional fuse element (blown fuse)
Categories
Some models may be equipped with a manual front passenger seat. The seat can be adjusted forward or rearward by using a bar located by the front of the seat cushion, near the floor.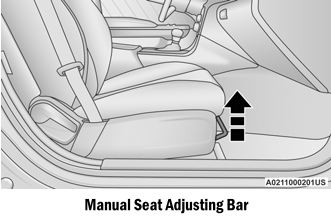 Copyright © 2023 www.docharger.org