Dodge Charger: SERVICING AND MAINTENANCE / SCHEDULED SERVICING
3.6L AND 5.7L ENGINES
These vehicles are equipped with an automatic oil change indicator system. The oil change indicator system will remind you that it is time to take your vehicle in for scheduled maintenance.
Based on engine operation conditions, the oil change indicator message will illuminate. This means that service is required for your vehicle. Operating conditions such as frequent short-trips, trailer tow, and extremely hot or cold ambient temperatures will influence when the "Change Oil" or "Oil Change Required" message is displayed. Have your vehicle serviced as soon as possible, within the next 500 miles (805 km).
The "Oil Change Required" message will be displayed in the instrument cluster and a single chime will sound, indicating that an oil change is necessary.
An authorized dealer will reset the oil change indicator message after completing the scheduled oil change. If a scheduled oil change is performed by someone other than an authorized dealer, the message can be reset by referring to "Instrument Cluster Display".
NOTE:
Under no circumstances should oil change intervals exceed 10,000 miles (16,000 km), 12 months or 350 hours of engine run time, whichever comes first. The 350 hours of engine run or idle time is generally only a concern for fleet customers.
Once A Month Or Before A Long Trip:
Check engine oil level.
Check windshield washer fluid level.
Check tire pressure and look for unusual wear or damage. Rotate tires at the first sign of irregular wear, even if it occurs before your next scheduled service.
Check the fluid levels of the coolant reservoir, brake master cylinder, and power steering (if equipped) and fill as needed.
Check function of all interior and exterior lights.
Maintenance Plan — 3.6L And 5.7L
Required Maintenance Intervals:
Refer to the maintenance schedules on the following page for the required maintenance intervals. More frequent maintenance may be needed in severe conditions, such as dusty areas and very short trip driving. In some extreme conditions, additional maintenance not specified in the maintenance schedule may be required.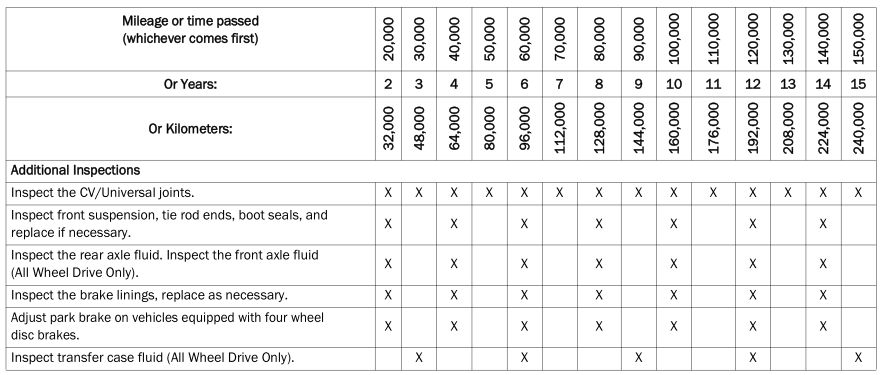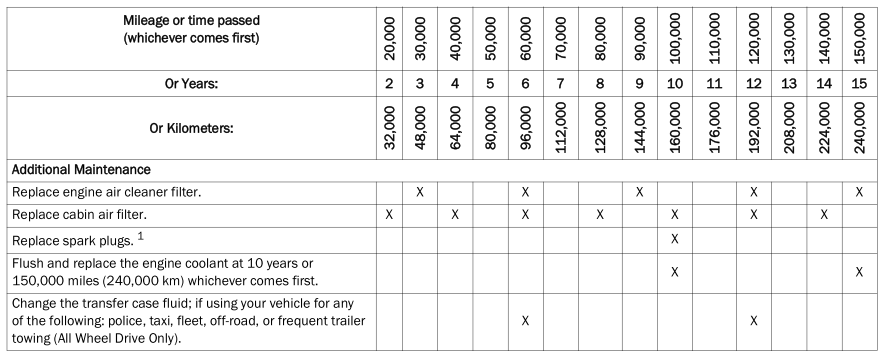 1. The spark plug change interval is mileage based only, yearly intervals do not apply.
WARNING!
You can be badly injured working on or around a motor vehicle. Do only service work for which you have the knowledge and the right equipment. If you have any doubt about your ability to perform a service job, take your vehicle to a competent mechanic.
Failure to properly inspect and maintain your vehicle could result in a component malfunction and effect vehicle handling and performance. This could cause an accident.
Other information:
Some models may be equipped with eight-way power driver and front passenger seats. The power seat switches are located on the outboard side of the seat. There are two switches that control the movement of the seat cushion and the seatback. Seatback Control Seat Control Adjusting The Seat Forward Or Rearward The seat can be adjusted both forward and rearward by using the power seat switch...
The service life of a tire is dependent upon varying factors including, but not limited to: Driving style. Tire pressure - Improper cold tire inflation pressures can cause uneven wear patterns to develop across the tire tread. These abnormal wear patterns will reduce tread life, resulting in the need for earlier tire replace- ment...