Dodge Charger: EXTERIOR LIGHTS / Headlight Delay, Lights-On Reminder, Fog Lights
Headlight Delay
To aid in your exit, your vehicle is equipped with a headlight delay that will leave the headlights on for approximately 90 seconds. This delay is initiated when the ignition is placed in the OFF position while the headlight switch is on, and then the headlight switch is cycled off. Headlight delay can be canceled by either turning the headlight switch on then off, or by placing the ignition in the ON position.
NOTE:
The headlight delay time is programmable through Uconnect Settings.
Lights-On Reminder
If the headlights or parking lights are on after the ignition is placed in the OFF position, the vehicle will chime when the driver's door is opened.
Fog Lights — If Equipped
The fog lights are turned on by rotating the headlight switch to the parking light or headlight position and pushing in the headlight rotary control.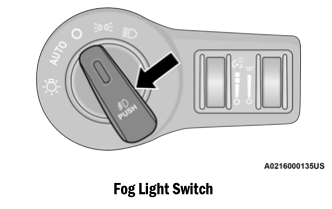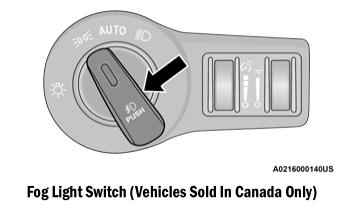 The fog lights will operate only when the parking lights are on or when the vehicle headlights are on low beam. An indicator light located in the instrument cluster will illuminate when the fog lights are on. The fog lights will turn off when the switch is pushed a second time, when the headlight switch is rotated to the off position, or the high beam is selected.
If your vehicle is equipped with Automatic Headlights, it also has this customer-programmable feature. When your headlights are in the automatic mode and the engine is running, they will automatically turn on when the wiper system is on...
Move the multifunction lever up or down to activate the turn signals. The arrows on each side of the instrument cluster flash to show proper operation...
Other information:
INSTRUMENT CLUSTER DESCRIPTIONS Tachometer Indicates the engine speed in revolutions per minute (RPM x 1000). Instrument Cluster Display When the appropriate conditions exist, this display shows the instrument cluster display messages...
T..