Dodge Charger: Head Restraints / Reactive Head Restraints — Front Seats
The front driver and passenger seats are equipped with Reactive Head Restraints (RHR). In the event of a rear impact, the RHR will automatically extend forward minimizing the gap between the back of the occupant's head and the RHR.
The RHR will automatically return to their normal position following a rear impact. If the RHR do not return to their normal position, see an authorized dealer immediately.
To raise the head restraint, pull upward on the head restraint. To lower the head restraint, push the adjustment button located at the base of the head restraint and push downward on the head restraint.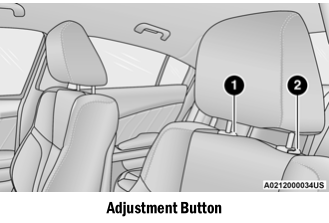 WARNING!
A loose head restraint thrown forward in a collision or hard stop could cause serious injury or death to occupants of the vehicle. Always securely stow removed head restraints in a location outside the occu- pant compartment.
ALL the head restraints MUST be rein- stalled in the vehicle to properly protect the occupants. Follow the re-installation instructions above prior to operating the vehicle or occupying a seat.
Do not place items over the top of the Reac- tive Head Restraint, such as coats, seat covers or portable DVD players. These items may interfere with the operation of the Reactive Head Restraint in the event of a collision and could result in serious injury or death.
Categories
The power door lock switches are located on each front door panel. Push the switch to lock or unlock the doors.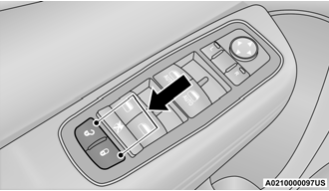 The driver's door will unlock automatically if the keys are found inside the vehicle when the door lock button on the front door panel is used to lock the door. This will occur for two attempts. Upon the third attempt, the doors will lock even if the key is inside.
Copyright © 2023 www.docharger.org