Dodge Charger: GETTING TO KNOW YOUR VEHICLE / SEATS
Seats are a part of the Occupant Restraint system of the vehicle.
WARNING!
It is dangerous to ride in a cargo area, inside or outside of a vehicle. In a collision, people riding in these areas are more likely to be seriously injured or killed.
Do not allow people to ride in any area of your vehicle that is not equipped with seats and seat belts. In a collision, people riding in these areas are more likely to be seri- ously injured or killed.
Be sure everyone in your vehicle is in a seat and using a seat belt properly.
NOTE: If a recall is attempted when the vehicle is not in PARK, a message will be displayed in the instru- ment cluster display. To recall the memory settings for driver one or two, push the desired memory button number (1 or 2) or the unlock button on the key fob linked to the desired memory position...
WARNING! Adjusting a seat while the vehicle is moving is dangerous. The sudden movement of the seat could cause you to lose control. The seat belt might not be adjusted properly and you could be injured...
Other information:
Use Mopar® Total Clean to clean vinyl upholstery. CAUTION! Direct contact of air fresheners, insect repellents, suntan lotions, or hand sani- tizers to the plastic, painted, or decorated surfaces of the interior may cause perma- nent damage...
O..
Categories
This feature allows you to tilt the steering column upward or downward. It also allows you to lengthen or shorten the steering column. The tilt/telescoping control is located below the steering wheel at the end of the steering column.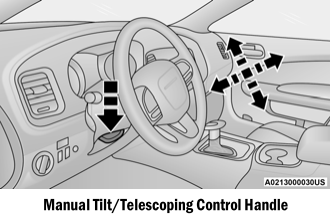 Copyright © 2023 www.docharger.org