Dodge Charger: SERVICING AND MAINTENANCE / STORING THE VEHICLE
If you are leaving your vehicle dormant for more than 3 weeks, you may want to take these steps to protect your battery.
Disconnect the negative cable from the battery.
Anytime you store your vehicle, or keep it out of service (e.g., vacation) for two weeks or more, run the air conditioning system at idle for about five minutes in the fresh air and high blower setting. This will ensure adequate system lubrication to minimize the possibility of compressor damage when the system is started again.
The following tire grading categories were established by the National Highway Traffic Safety Administration. The specific grade rating assigned by the tire's manufacturer in each category is shown on the sidewall of the tires on your vehicle...
Other information:
When selected, this screen displays the following values: Oil TemperatureShows the actual oil temperature. Oil PressureShows the actual oil pressure. Coolant TemperatureShows the actual coolant temperature. Battery VoltageShows actual battery voltage...
If your vehicle has a discharged battery, it can be jump started using a set of jumper cables and a battery in another vehicle, or by using a portable battery booster pack. Jump starting can be dangerous if done improperly, so please follow the procedures in this section carefully...
Categories
To access an illuminated vanity mirror, flip down one of the visors and lift the cover.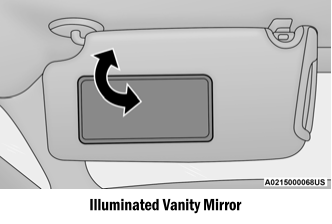 Sun Visor "Slide-On-Rod" Feature — If Equipped
The sun visor "Slide-On-Rod" feature allows for additional flexibility in positioning the sun visor to block out the sun.
Fold down the sun visor. Unclip the visor from the corner clip. Pivot the sun visor toward the side window. Extend the sun visor for additional sun blockage.
Copyright © 2023 www.docharger.org