Dodge Charger: SERVICING AND MAINTENANCE / STORING THE VEHICLE
If you are leaving your vehicle dormant for more than 3 weeks, you may want to take these steps to protect your battery.
Disconnect the negative cable from the battery.
Anytime you store your vehicle, or keep it out of service (e.g., vacation) for two weeks or more, run the air conditioning system at idle for about five minutes in the fresh air and high blower setting. This will ensure adequate system lubrication to minimize the possibility of compressor damage when the system is started again.
The following tire grading categories were established by the National Highway Traffic Safety Administration. The specific grade rating assigned by the tire's manufacturer in each category is shown on the sidewall of the tires on your vehicle...
Other information:
Push and hold the Voice Recognition (VR) button on the steering wheel until the beep or tap the Microphone icon to ask Google to take you to a desired destination by voice. You can also touch the Navigation icon in Android Auto™ to access other navigation apps...
The Advanced Front Air Bag system has multistage driver and front passenger air bags. This system provides output appropriate to the severity and type of collision as determined by the Occupant Restraint Controller (ORC), which may receive information from the front impact sensors (if equipped) or other system components...
Categories
To access an illuminated vanity mirror, flip down one of the visors and lift the cover.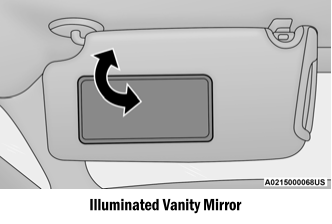 Sun Visor "Slide-On-Rod" Feature — If Equipped
The sun visor "Slide-On-Rod" feature allows for additional flexibility in positioning the sun visor to block out the sun.
Fold down the sun visor. Unclip the visor from the corner clip. Pivot the sun visor toward the side window. Extend the sun visor for additional sun blockage.
Copyright © 2022 www.docharger.org