Dodge Charger: ENGINE COMPARTMENT / 3.6L Engine
Brake Fluid Reservoir Access Cover
Washer Fluid Reservoir Cap
Power Distribution Center (Fuses)
Engine Oil Dipstick
Engine Oil Fill
Engine Air Cleaner Filter
Engine Coolant Pressure Reservoir
Other information:
Children who are large enough to wear the shoulder belt comfortably, and whose legs are long enough to bend over the front of the seat when their back is against the seatback, should use the seat belt in a rear seat. Use this simple 5-step test to decide whether the child can use the vehicle's seat belt alone: Can the child sit all the way back against the back of the vehicle seat? Do the child's knees bend comfortably over the front of the vehicle seat – while the child is still sitting all the way back? Does the shoulder belt cross the child's shoulder between the neck and arm? Is the lap part of the belt as low as possible, touching the child's thighs and not the stomach? Can the child stay seated like this for the whole trip? If the answer to any of these questions was "no," then the child still needs to use a booster seat in this vehicle...
Follow these steps to arm the Vehicle Security system: Make sure the vehicle's ignition is placed in the OFF position. Perform one of the following methods to lock the vehicle: Push lock on the interior power door lock switch with the driver and/or passenger door open...
Categories
The headlight switch is located on the left side of the instrument panel. This switch controls the operation of the headlights, parking lights, instrument panel lights, and fog lights (if equipped).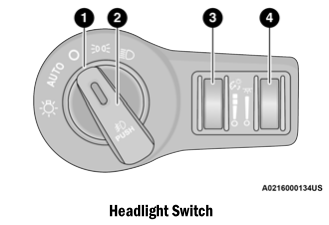 Rotate Headlight Control Push Front Fog Light Control Instrument Panel Dimmer Control Ambient Light Dimmer Control
Copyright © 2022 www.docharger.org