Dodge Charger: ENGINE COMPARTMENT / 3.6L Engine
Brake Fluid Reservoir Access Cover
Washer Fluid Reservoir Cap
Power Distribution Center (Fuses)
Engine Oil Dipstick
Engine Oil Fill
Engine Air Cleaner Filter
Engine Coolant Pressure Reservoir
Other information:
Press and release this button on the touchscreen, or push the button on the faceplate to change the current setting. The A/C indicator illuminates when A/C is on. Recirculation Button Press and release this button to change the system between recirculation mode and outside air mode...
The best protection against carbon monoxide entry into the vehicle body is a properly maintained engine exhaust system. If you notice a change in the sound of the exhaust system; or if the exhaust fumes can be detected inside the vehicle; or when the underside or rear of the vehicle is damaged; have an authorized technician inspect the complete exhaust system and adjacent body areas for broken, damaged, deteriorated, or mispositioned parts...
Categories
The headlight switch is located on the left side of the instrument panel. This switch controls the operation of the headlights, parking lights, instrument panel lights, and fog lights (if equipped).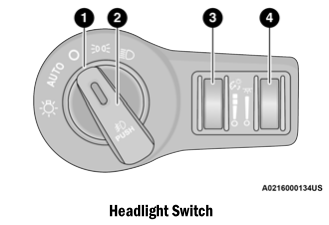 Rotate Headlight Control Push Front Fog Light Control Instrument Panel Dimmer Control Ambient Light Dimmer Control
Copyright © 2022 www.docharger.org