Dodge Charger: AUTOMATIC TRANSMISSION / Ignition Park Interlock
This vehicle is equipped with an Ignition Park Interlock which requires the transmission to be in PARK before the ignition can be turned to the OFF mode. This helps the driver avoid inadvertently leaving the vehicle without placing the transmission in PARK. This system also locks the transmission in PARK whenever the ignition is in the OFF mode.
NOTE:
The transmission is NOT locked in PARK when the ignition is in the ACC mode (even though the engine will be off). Ensure that the transmission is in PARK, and the ignition is OFF (not in ACC mode) before exiting the vehicle.
Brake Transmission Shift Interlock (BTSI) System
This vehicle is equipped with a BTSI that holds the transmission gear selector in PARK unless the brakes are applied. To shift the transmission out of PARK, the engine must be running and the brake pedal must be pressed. The brake pedal must also be pressed to shift from NEUTRAL into DRIVE or REVERSE when the vehicle is stopped or moving at low speeds.
Categories
To access an illuminated vanity mirror, flip down one of the visors and lift the cover.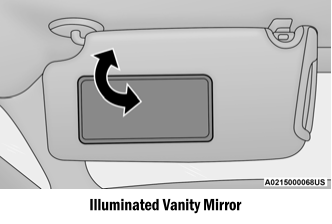 Sun Visor "Slide-On-Rod" Feature — If Equipped
The sun visor "Slide-On-Rod" feature allows for additional flexibility in positioning the sun visor to block out the sun.
Fold down the sun visor. Unclip the visor from the corner clip. Pivot the sun visor toward the side window. Extend the sun visor for additional sun blockage.