Dodge Charger: ANDROID AUTO™ & APPLE CARPLAY® — IF EQUIPPED / Maps

Push and hold the Voice Recognition (VR) button on the steering wheel until the beep or tap the Microphone icon to ask Google to take you to a desired destination by voice. You can also touch the Navigation icon in Android Auto™ to access other navigation apps.
While using Android Auto™, Google Maps™ provides voice-guided:
Navigation
Live traffic information
Lane guidance
For further information, refer to www.android.com/auto/ (US) or https:// www.android.com/intl/en_ca/auto/ (Canada).
For further information on the navigation function, please refer to https:// support.google.com/android or https:// support.google.com/androidauto/.
Categories
To access an illuminated vanity mirror, flip down one of the visors and lift the cover.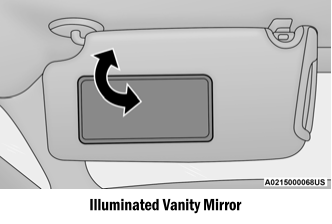 Sun Visor "Slide-On-Rod" Feature — If Equipped
The sun visor "Slide-On-Rod" feature allows for additional flexibility in positioning the sun visor to block out the sun.
Fold down the sun visor. Unclip the visor from the corner clip. Pivot the sun visor toward the side window. Extend the sun visor for additional sun blockage.
Copyright © 2023 www.docharger.org