Dodge Charger: DOORS / Manual Door Locks
The power door locks can be manually locked from inside the vehicle by using the door lock knob. To lock each door, push the door lock knob on each door trim panel downward. To unlock the front doors, pull the inside door handle to the first detent. To unlock the rear doors, pull the door lock knob on the door trim panel upward. If the lock knob is down when the door is closed, the door will lock.
Therefore, make sure the key fob is not inside the vehicle before closing the door.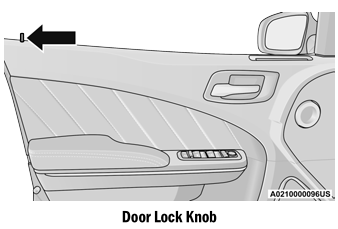 NOTE:
Manually locking the vehicle will not arm the Vehicle Security system.
WARNING!
For personal security and safety in the event of a collision, lock the vehicle doors before you drive as well as when you park and leave the vehicle.
When exiting the vehicle, always make sure the Keyless Enter-N-Go Ignition is in the OFF position, remove the key fob from the vehicle and lock your vehicle.
Never leave children alone in a vehicle, or with access to an unlocked vehicle. Allowing children to be in a vehicle unat- tended is dangerous for a number of reasons. A child or others could be seriously or fatally injured. Children should be warned not to touch the parking brake, brake pedal or the gear selector.
Do not leave the key fob in or near the vehicle, or in a location accessible to chil- dren, and do not leave the Keyless Enter-N-Go Ignition in the ACC or ON/RUN position. A child could operate power windows, other controls, or move the vehicle.
The power door lock switches are located on each front door panel. Push the switch to lock or unlock the doors. The driver's door will unlock automatically if the keys are found inside the vehicle when the door lock button on the front door panel is used to lock the door...
Other information:
The rearview mirror can be adjusted up, down, left, and right. The mirror should be adjusted to center on the view through the rear window. This mirror automatically adjusts for headlight glare from vehicles behind you. NOTE: The Automatic Dimming Mirror feature is disabled when the vehicle is in REVERSE to improve the driver's rear view...
When using the LATCH attaching system to install a child restraint, stow all ALR seat belts that are not being used by other occupants or being used to secure child restraints. An unused belt could injure a child if they play with it and accidentally lock the seat belt retractor...
Categories
The headlight switch is located on the left side of the instrument panel. This switch controls the operation of the headlights, parking lights, instrument panel lights, and fog lights (if equipped).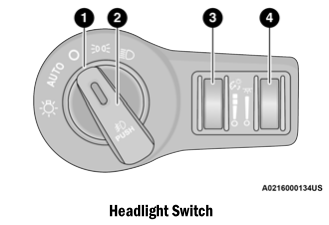 Rotate Headlight Control Push Front Fog Light Control Instrument Panel Dimmer Control Ambient Light Dimmer Control