Dodge Charger: INSTRUMENT CLUSTER DISPLAY / Performance Shift Indicator (PSI) — If Equipped
The PSI is enabled on vehicles with manual transmission, or when a vehicle with automatic transmission is in manual shift mode. The PSI provides the driver with a visual indication within the instrument cluster display when the driver configured gear shift point has been reached and the driver is still accelerating. This indication notifies the driver to change gear corresponding to the configured RPMs in the head unit.
Categories
Some models may be equipped with a manual front passenger seat. The seat can be adjusted forward or rearward by using a bar located by the front of the seat cushion, near the floor.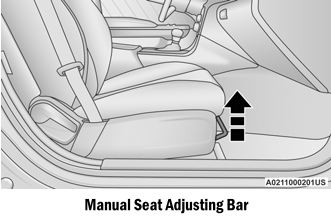 Copyright © 2023 www.docharger.org