Dodge Charger: BODYWORK / Preserving The Bodywork
Washing
Wash your vehicle regularly. Always wash your vehicle in the shade using Mopar® Car Wash, or a mild car wash soap, and rinse the panels completely with water.
If insects, tar, or other similar deposits have accumulated on your vehicle, use Mopar® Super Kleen Bug and Tar Remover to remove.
Use a high quality cleaner wax, such as Mopar® Cleaner Wax to remove road film, stains and to protect your paint finish. Use precautions to not scratch the paint.
Avoid using abrasive compounds and power buffing that may diminish the gloss or thin out the paint finish.
CAUTION!
Do not use abrasive or strong cleaning materials such as steel wool or scouring powder that will scratch metal and painted surfaces.
Use of power washers exceeding 1,200 psi (8,274 kPa) can result in damage or removal of paint and decals.
Special Care
If you drive on salted or dusty roads or if you drive near the ocean, hose off the undercar- riage at least once a month.
It is important that the drain holes in the lower edges of the doors, rocker panels, and trunk be kept clear and open.
If you detect any stone chips or scratches in the paint, touch them up immediately.
If your vehicle is damaged due to a collision or similar cause that destroys the paint and protective coating, have your vehicle repaired as soon as possible.
If you carry special cargo such as chemicals, fertilizers, de-icer salt, etc., be sure that such materials are well packaged and sealed.
If a lot of driving is done on gravel roads, consider mud or stone shields behind each wheel.
Use Mopar® Touch Up Paint on scratches as soon as possible. An authorized dealer has touch up paint to match the color of your vehicle.
Cleaning Headlights Your vehicle is equipped with plastic headlights and fog lights that are lighter and less susceptible to stone breakage than glass headlights...
Other information:
T..
The Uconnect system uses a combination of buttons on the touchscreen and buttons on the faceplate located on the center of the instrument panel. These buttons allow you to access and change the Customer Programmable Features. Many features can vary by vehicle...
Categories
To adjust the seatback, lift the lever located on the outboard side of the seat, lean back to the desired position and release the lever. To return the seatback, lift the lever, lean forward and release the lever.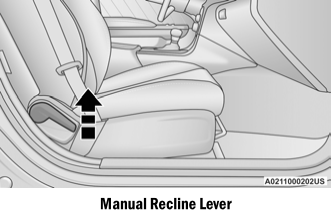 Copyright © 2023 www.docharger.org