Dodge Charger: OCCUPANT RESTRAINT SYSTEMS / To Install A LATCH-Compatible Child Restraint
If the selected seating position has a Switchable Automatic Locking Retractor (ALR) seat belt, stow the seat belt, following the instructions below.
Loosen the adjusters on the lower straps and on the tether strap of the child seat so that you can more easily attach the hooks or connectors to the vehicle anchorages.
Place the child seat between the lower anchorages for that seating position. If the second row seat can be reclined, you may recline the seat and/or raise the head restraint (if adjustable) to get a better fit. If the rear seat can be moved forward and rearward in the vehicle, you may wish to move it to its rear-most position to make room for the child seat. You may also move the front seat forward to allow more room for the child seat.
Attach the lower hooks or connectors of the child restraint to the lower anchorages in the selected seating position.
If the child restraint has a tether strap, connect it to the top tether anchorage.
Tighten all of the straps as you push the child restraint rearward and downward into the seat. Remove slack in the straps according to the child restraint manufacturer's instructions.
Test that the child restraint is installed tightly by pulling back and forth on the child seat at the belt path. It should not move more than 1 inch (25.4 mm) in any direction.
Categories
The windshield wiper/washer controls are located on the multifunction lever on the left side of the steering column. The front wipers are operated by rotating a switch, located on the end of the lever.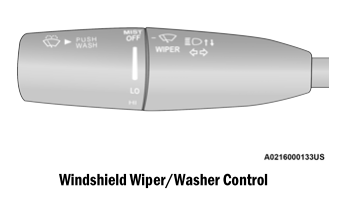 Copyright © 2023 www.docharger.org