Dodge Charger: Keyless Enter-N-Go — Passive Entry / To Lock The Vehicle's Doors And Trunk
With one of the vehicle's Passive Entry key fobs within 5 ft (1.5 m) of either front door handle, pushing the Passive Entry lock button will lock the vehicle.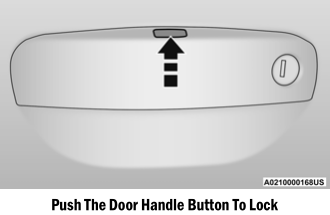 NOTE:
DO NOT grab the door handle, when pushing the door handle lock button. This could unlock the door(s).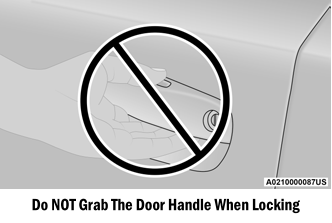 NOTE:
After pushing the door handle button, you must wait two seconds before you can lock or unlock the doors, using either Passive Entry door handle. This is done to allow you to check if the vehicle is locked by pulling the door handle without the vehicle unlocking.
If Passive Entry is disabled using the Uconnect Settings, the key protection described in "Frequency Operated Button Integrated Key (FOBIK-Safe)" remains active/ functional.
The Passive Entry system will not operate if the key fob battery is depleted.
Categories
The power door lock switches are located on each front door panel. Push the switch to lock or unlock the doors.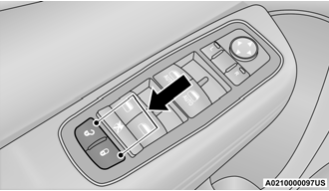 The driver's door will unlock automatically if the keys are found inside the vehicle when the door lock button on the front door panel is used to lock the door. This will occur for two attempts. Upon the third attempt, the doors will lock even if the key is inside.
Copyright © 2023 www.docharger.org