Dodge Charger: WINDSHIELD WIPERS AND WASHERS / Windshield Wiper Operation
Rotate the end of the multifunction lever to the first detent, past the intermittent settings for low-speed wiper operation, or to the second detent past the intermittent settings for high-speed wiper operation.
CAUTION!
Always remove any buildup of snow that prevents the windshield wiper blades from returning to the "park" position. If the windshield wiper switch is turned off, and the blades cannot return to the "park" position, damage to the wiper motor may occur.
Intermittent Wipers
Use one of the four intermittent wiper settings when weather conditions permit. At driving speeds above 10 mph (16 km/h), the delay can be regulated from a maximum of approximately 36 seconds between cycles (first detent), to a cycle every one second (fourth detent). If the vehicle is moving less than 10 mph (16 km/h), delay times will be doubled.
Windshield Washers
To use the washer, push on the end of the lever (toward the steering wheel) and hold. If the lever is pushed while in the intermittent setting, the wipers will turn on and operate for several cycles after the end of the lever is released, and then resume the intermittent interval previously selected.
If the end of the lever is pushed while the wipers are in the off position, the wipers will operate for several cycles, then turn off.
WARNING!
Sudden loss of visibility through the windshield could lead to a collision. You might not see other vehicles or other obstacles. To avoid sudden icing of the windshield during freezing weather, warm the windshield with the defroster before and during windshield washer use.
Mist
Rotate the end of the lever downward to the MIST position and release for a single wiping cycle.
NOTE:
The Mist feature does not activate the washer pump; therefore, no washer fluid will be sprayed on the windshield. The wash function must be used in order to spray the windshield with washer fluid.
Categories
The headlight switch is located on the left side of the instrument panel. This switch controls the operation of the headlights, parking lights, instrument panel lights, and fog lights (if equipped).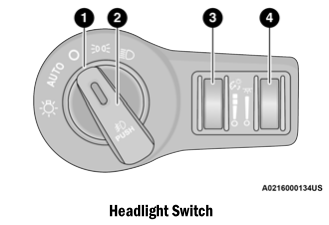 Rotate Headlight Control Push Front Fog Light Control Instrument Panel Dimmer Control Ambient Light Dimmer Control