Dodge Charger: OCCUPANT RESTRAINT SYSTEMS / Child Restraints
Everyone in your vehicle needs to be buckled up at all times, including babies and children. Every state in the United States, and every Canadian province, requires that small children ride in proper restraint systems. This is the law, and you can be prosecuted for ignoring it.
Children 12 years or younger should ride properly buckled up in a rear seat, if available. According to crash statistics, children are safer when properly restrained in the rear seats rather than in the front.
WARNING!
In a collision, an unrestrained child can become a projectile inside the vehicle. The force required to hold even an infant on your lap could become so great that you could not hold the child, no matter how strong you are. The child and others could be badly injured or killed. Any child riding in your vehicle should be in a proper restraint for the child's size.
There are different sizes and types of restraints for children from newborn size to the child almost large enough for an adult safety belt. Always check the child seat Owner's Manual to make sure you have the correct seat for your child. Carefully read and follow all the instructions and warnings in the child restraint Owner's Manual and on all the labels attached to the child restraint.
Before buying any restraint system, make sure that it has a label certifying that it meets all applicable Safety Standards. You should also make sure that you can install it in the vehicle where you will use it.
NOTE:
For additional information, refer to http://www.nhtsa.gov/parents-and-care-givers or call: 1–888–327–4236
Canadian residents should refer to Transport Canada's website for additional information: http://www.tc.gc.ca/en/services/road/child-car-seat-safety.html
This vehicle is equipped with an event data recorder (EDR). The main purpose of an EDR is to record, in certain crash or near crash-like situations, such as an air bag deployment or hitting a road obstacle, data that will assist in understanding how a vehicle's systems performed...
Other information:
The BSM system uses two radar sensors, located inside the rear fascia/bumper, to detect highway licensable vehicles (automobiles, trucks, motorcycles, etc.) that enter the blind spot zones from the rear/front/side of the vehicle. When the vehicle is started, the BSM Warning Light will momentarily illuminate in both outside rearview mirrors to let the driver know that the system is operational...
Anti-Lock Brake System (ABS) Warning Light This warning light monitors the ABS. The light will turn on when the ignition is placed in the ON/RUN or ACC/ON/ RUN position and may stay on for as long as four seconds. If the ABS light remains on or turns on while driving, then the Anti-Lock portion of the brake system is not functioning and service is required as soon as possible...
Categories
The headlight switch is located on the left side of the instrument panel. This switch controls the operation of the headlights, parking lights, instrument panel lights, and fog lights (if equipped).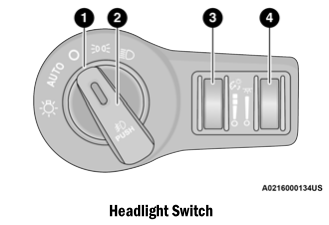 Rotate Headlight Control Push Front Fog Light Control Instrument Panel Dimmer Control Ambient Light Dimmer Control