Dodge Charger: PERFORMANCE PAGES / Dynamometer (Dyno)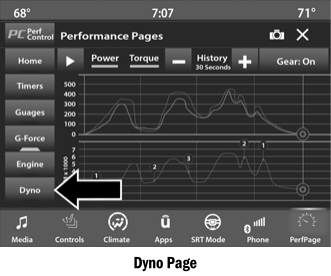 The system will start drawing graphs for Power and Torque (top chart) and Engine Speed (bottom chart). The graph will fill to the right side of the page (based on History time selected). Once the right side of the page is reached, the graph will scroll with the right side always being the most recent recorded sample.
The following options can be selected:
Pressing the STOP button will freeze the graph. Selecting Play will clear the graph and restart the process over.
Press the + or – buttons to change the history of the graph. The selectable options are "30", "60", "90", or "120" seconds. The graph will expand or constrict depending on the setting selected.
Select the "Gear" display setting to turn the graph gear markers on and off for automatic transmission vehicles only.
NOTE:
The Gear On/Off feature will only display if your vehicle is equipped with an Automatic Trans- mission.
When selected, this screen displays the following values: Vehicle SpeedShows the actual vehicle speed. Engine PowerShows the instantaneous power...
Other information:
Mode Control Select Mode by pressing one of the Mode buttons on the touchscreen to change the airflow distribution mode. The airflow distribution mode can be adjusted so air comes from the instrument panel outlets, floor outlets, defrost outlets, and demist outlets...
Before programming a device to one of your HomeLink® buttons, you must determine whether the device has a rolling code or non-rolling code. Rolling Code Devices To determine if your device has a rolling code, a good indicator is its manufacturing date...
Categories
The glove compartment is located on the passenger side of the instrument panel.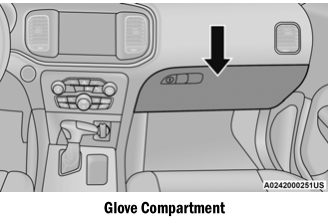 To open the glove compartment, pull the release handle.
WARNING!
Do not operate this vehicle with a glove compartment in the open position. Driving with the glove compartment open may result in injury in a collision.