Dodge Charger: MULTIMEDIA / PERFORMANCE PAGES
Performance Pages is an application that provides a display for performance indicators, as received from the instrument cluster, that will help you gain familiarity with the capabilities of your vehicle in real-time.
To access the Performance Pages, press the Apps button on the touchscreen then press the Performance Pages button on the touchscreen. Press the desired button on the touchscreen to access that specific Performance Page.
WARNING!
Measurement of vehicle statistics with the Performance Pages is intended for off-highway or off-road use only and should not be done on any public roadways. It is recommended that these features be used in a controlled environment and within the limits of the law. The capabilities of the vehicle as measured by the Performance Pages must never be exploited in a reckless or dangerous manner, which can jeopardize the user's safety or the safety of others. Only a safe, attentive, and skillful driver can prevent accidents.
The Performance Pages include the following:
Home
Timers
Gauges
G-Force
Engine
Dyno
If a USB drive is installed in the media hub, press the Camera icon on the top right of the touchscreen when using Performance Pages. A screen shot of the page will be taken and saved onto the USB.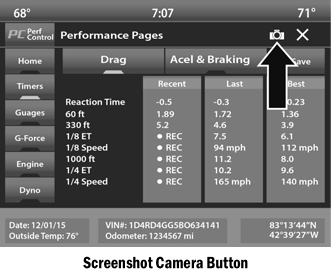 The following describes each feature and its operation:
Categories
The power door locks can be manually locked from inside the vehicle by using the door lock knob. To lock each door, push the door lock knob on each door trim panel downward. To unlock the front doors, pull the inside door handle to the first detent. To unlock the rear doors, pull the door lock knob on the door trim panel upward. If the lock knob is down when the door is closed, the door will lock.