Dodge Charger: PERFORMANCE PAGES / Home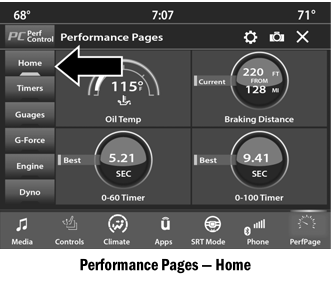 When Home is selected, a series of widgets (gauges) can be customized by the user. Follow these steps to change a widget. Either press directly on the widget you want to change, or:
Press the Settings button (gear icon) on the touchscreen to access the main menu for the widgets.
Select one of the following options from the menu:

Set Widget: Top Left
Set Widget: Top Right
Set Widget: Bottom Left
Set Widget: Bottom Right

After selecting a widget location, select the gauge to display:

Gauge: Oil Temp
Gauge: Oil Pressure
Gauge: Coolant Temp
Gauge: Battery Voltage
Gauge: Trans Temp — If Equipped with an Automatic Transmission
Gauge: Boost Pressure — If Equipped
Gauge: Air/Fuel Ratio — If Equipped
Gauge: I/C Coolant Temp — If Equipped
Gauge: Intake Air Temp
Gauge: Engine Torque
Gauge: Engine Power
Gauge: G-Force
Gauge: Steering Angle
Gauge: Current Gear
Gauge: Current Speed
Timer: 0–60 mph (0–100 km/h)
Timer: 0–100 mph (0–160 km/h)
Timer: 60 ft (20 m)
Timer: 330 ft (100 m)
Timer: 1/8 Mile (200 m)
Timer: 1000 ft (300 m)
Timer: 1/4 Mile (400 m)
Timer: Braking Distance
Timer: Reaction Time
Historical Data
The Historical Data feature allows you to view information about your vehicle such as the VIN, miles on the odometer, longitude and latitude coordinates, and more.
To activate the Historical Data feature on your touchscreen, follow these steps:
Select the Home page tab within Performance Pages. Then, press the settings icon (gear icon) in the upper right hand corner of the touchscreen.

Towards the bottom of the screen, a checkbox will appear next to "Include historical data in screenshot." Click the box to signify that this feature will be on.

NOTE:

Once the checkbox is selected, the bottom bar of the screen will be replaced with the historical data from your vehicle present at the time the screenshot icon was pressed.

Outside Temperature
Date
Odometer
VIN
Longitude And Latitude Coordinates

To take a screenshot of the historical data, make sure a USB device is plugged into the vehicle. Next, click the Camera icon located in the top right corner of the touchscreen. The historical data image file will be saved to the USB drive.
Categories
Some models may be equipped with a manual front passenger seat. The seat can be adjusted forward or rearward by using a bar located by the front of the seat cushion, near the floor.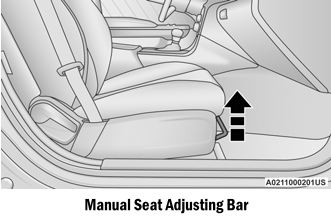 Copyright © 2023 www.docharger.org