Dodge Charger: KEYS / Replacing The Battery In The Key Fob
The recommended replacement battery is one CR2032 battery.
NOTE:
Customers are recommended to use a battery obtained from Mopar®. Aftermarket coin battery dimensions may not meet the original OEM coin battery dimensions.
Perchlorate Material — special handling may apply. See www.dtsc.ca.gov/hazard- ouswaste/perchlorate for further informa- tion.
Do not touch the battery terminals that are on the back housing or the printed circuit board.
Remove the emergency key (2) by sliding the emergency key release (1) on the back of the key fob and pulling the emergency key out with your other hand.

Emergency Key Release Button
Emergency Key

Separate the key fob halves using a #2 flat blade screwdriver or a coin, and gently pry the two halves of the key fob apart. Make sure not to damage the seal during removal.

Remove the back cover to access and replace the battery. When replacing the battery, match the (+) sign on the battery to the (+) sign on the inside of the battery clip, located on the back cover. Avoid touching the new battery with your fingers. Skin oils may cause battery deterioration. If you touch a battery, clean it with rubbing alcohol.
To assemble the key fob case, snap the two halves together.
WARNING!
The integrated key fob contains a coin cell battery. Do not ingest the battery; there is a chemical burn hazard. If the coin cell battery is swallowed, it can cause severe internal burns in just two hours and can lead to death.
If you think a battery may have been swal- lowed or placed inside any part of the body, seek immediate medical attention.
Keep new and used batteries away from children. If the battery compartment does not close securely, stop using the product and keep it away from children.
Categories
The overhead console is equipped with an ambient light feature. This light illuminates for improved visibility of the floor and center console area.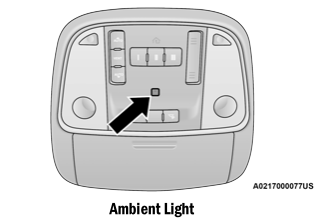 Copyright © 2023 www.docharger.org