Dodge Charger: Tires — General Information / Run Flat Tires — If Equipped
Run Flat tires allow you the capability to drive 50 miles (80 km) at 50 mph (80 km/h) after a rapid loss of inflation pressure. This rapid loss of inflation is referred to as the Run Flat mode. A Run Flat mode occurs when the tire inflation pressure is of/or below 14 psi (96 kPa). Once a Run Flat tire reaches the Run Flat mode it has limited driving capabilities and needs to be replaced immediately. A Run Flat tire is not repairable. When a Run Flat tire is changed after driving with underinflated tire condition, please replace the TPM sensor as it is not designed to be reused when driven under Run Flat mode 14 psi (96 kPa) condition.
NOTE:
TPM Sensor must be replaced after driving the vehicle on a flat tire condition.
It is not recommended driving a vehicle loaded at full capacity or to tow a trailer while a tire is in the Run Flat mode.
See the tire pressure monitoring section for more information.
Categories
This feature allows you to tilt the steering column upward or downward. It also allows you to lengthen or shorten the steering column. The tilt/telescoping control is located below the steering wheel at the end of the steering column.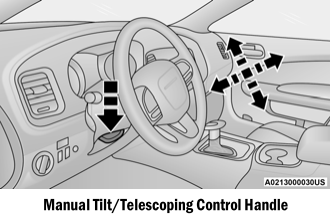 Copyright © 2023 www.docharger.org