Dodge Charger: UCONNECT MODES / Things You Should Know About Uconnect Phone
Voice Command
For the best performance:
Always wait for the beep before speaking
Speak normally, without pausing, just as you would speak to a person sitting a few feet/ meters away from you
Ensure that no one other than you is speaking during a voice command period
Low-To-Medium Blower Setting
Low-To-Medium Vehicle Speed
Low Road Noise
Smooth Road Surface
Fully Closed Windows
Dry Weather Conditions
WARNING!
ALWAYS drive safely with your hands on the wheel. You have full responsibility and assume all risks related to the use of the Uconnect features and applications in this vehicle. Only use Uconnect when it is safe to do so. Failure to do so may result in an accident involving serious injury or death.
Even though the system is designed for many languages and accents, the system may not always work for some.
NOTE:
It is recommended that you do not store names in your Favorites phonebook while the vehicle is in motion.
Number and name recognition rate is optimized when the entries are not similar. You can say "O" (letter "O") for "0" (zero).
Even though international dialing for most number combinations is supported, some shortcut dialing number combinations may not be supported.
Audio Performance
Audio quality is maximized under:
Low-To-Medium Blower Setting
Low-To-Medium Vehicle Speed
Low Road Noise
Smooth Road Surface
Fully Closed Windows
Dry Weather Conditions
Operation From The Driver's Seat
Performance such as audio clarity, echo, and loudness to a large degree rely on the phone and network, and not the Uconnect Phone.
Echo at the far end can sometimes be reduced by lowering the in-vehicle audio volume.
Phone Voice Commands
Making and answering hands-free phone calls is easy with Uconnect. When the Phonebook button is illuminated on your touchscreen, your system is ready. Check UconnectPhone.com for mobile phone compatibility and pairing instructions.
Push the Phone button

and wait for the beep to say a command. See some examples below:
"Call John Smith"
"Dial 123 456 7890"
"Redial" (call previous outgoing phone number)
"Call back" (call previously answered incoming phone number)
Did You Know: When providing a Voice Command, push the Phone button

and say "Call", then pronounce the name exactly as it appears in your phonebook. When a contact has multiple phone numbers, you can say "Call John Smith work".
Voice Text Reply — If Equipped
Uconnect can announce incoming text messages. Push the VR button

or Phone button

and say:
"Listen" to have the system read an incoming text message. (Must have compatible mobile phone paired to Uconnect system.)
"Reply" after an incoming text message has been read. Listen to the Uconnect prompts. After the beep, repeat one of the predefined messag- es and follow the system prompts.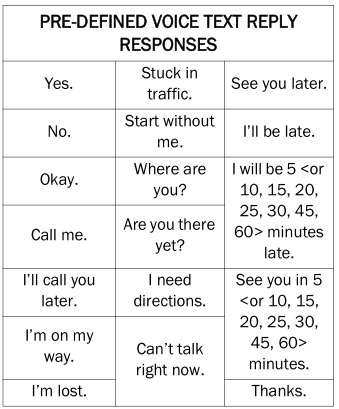 NOTE:
Only use the numbering listed in the provided table. Otherwise, the system will not transpose the message.
Did You Know: Your mobile phone must have the full implementation of the Message Access Profile (MAP) to take advantage of this feature. For details about MAP, visit UconnectPhone.com.
Apple® iPhone® iOS 6 or later supports reading incoming text messages only. For further information on how to enable this feature on your Apple® iPhone®, refer to your iPhone's® "User Manual".
Did You Know: Voice Text Reply is not compatible with iPhone®, but if your vehicle is equipped with Siri® Eyes Free, you can use your voice to send a text message.
Siri® Eyes Free — If Equipped
When used with your Apple® iPhone® connected to your vehicle via Bluetooth®, Siri lets you use your voice to send text messages, select media, place phone calls and much more. Siri uses your natural language to understand what you mean and responds back to confirm your requests. The system is designed to keep your eyes on the road and your hands on the wheel by letting Siri help you perform useful tasks.
To enable Siri, push and hold, then release the Uconnect Voice Recognition (VR) button on the steering wheel. After you hear a double beep, you can ask Siri to play podcasts and music, get directions, read text messages, and many other useful requests.
Bluetooth® Communication Link
Mobile phones may lose connection to the Uconnect Phone. When this happens, the connection can generally be re-established by restarting the mobile phone. Your mobile phone is recommended to remain in Bluetooth® ON mode.
Power-Up
After switching the ignition key from OFF to either the ON/RUN or ACC position, or after a language change, you must wait at least 15 seconds prior to using the system.
Transfer Call To And From Mobile Phone The Uconnect Phone allows ongoing calls to be transferred from your mobile phone without terminating the call...
Other information:
Your vehicle is equipped with a key fob which supports Passive Entry, Remote Keyless Entry (RKE), Keyless Enter-N-Go (if equipped), Remote Start (if equipped), and remote trunk release. The key fob allows you to lock or unlock the doors and trunk from distances up to approximately 66 ft (20 m)...
When engaged, the Cruise Control takes over accelerator operations at speeds greater than 25 mph (40 km/h) or 20 mph (32 km/h), depending on engine size and axle ratio. The Cruise Control buttons are located on the right side of the steering wheel...