Dodge Charger: IN CASE OF EMERGENCY / TIRE SERVICE KIT — IF EQUIPPED
Small punctures up to 1/4 inch (6 mm) in the tire tread can be sealed with Tire Service Kit. Foreign objects (e.g., screws or nails) should not be removed from the tire. Tire Service Kit can be used in outside temperatures down to approximately -4°F (-20°C).
This kit will provide a temporary tire seal, allowing you to drive your vehicle up to 100 miles (160 km) with a maximum speed of 50 mph (80 km/h).
WARNING! Carefully follow these tire changing warnings to help prevent personal injury or damage to your vehicle: Always park on a firm, level surface as far from the edge of the roadway as possible before raising the vehicle...
Other information:
Your vehicle is equipped with dual hydraulic brake systems. If either of the two hydraulic systems loses normal capability, the remaining system will still function. There will be some loss of overall braking effectiveness. This may be evident by increased pedal travel during application, greater pedal force required to slow or stop, and potential activation of the Brake Warning Light...
The Tire Pressure Monitoring System (TPMS) can be deactivated if replacing all four wheel and tire assemblies (road tires) with wheel and tire assemblies that do not have TPMS sensors, such as when installing winter wheel and tire assemblies on your vehicle...
Categories
The headlight switch is located on the left side of the instrument panel. This switch controls the operation of the headlights, parking lights, instrument panel lights, and fog lights (if equipped).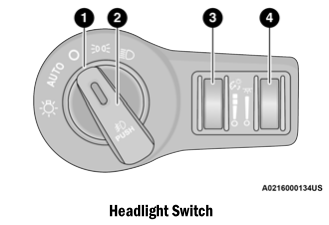 Rotate Headlight Control Push Front Fog Light Control Instrument Panel Dimmer Control Ambient Light Dimmer Control