Dodge Charger: Towing Requirements / Towing Requirements — Trailer Lights And Wiring
Whenever you pull a trailer, regardless of the trailer size, stoplights and turn signals on the trailer are required for motoring safety.
The Trailer Tow Package may include a four- and seven-pin wiring harness. Use a factory approved trailer harness and connector.
NOTE:
Do not cut or splice wiring into the vehicle's wiring harness.
The electrical connections are all complete to the vehicle but you must mate the harness to a trailer connector. Refer to the following illustrations.
NOTE:
Disconnect trailer wiring connector from the vehicle before launching a boat (or any other device plugged into vehicle's electrical connect) into water.
Be sure to reconnect after clear from water area.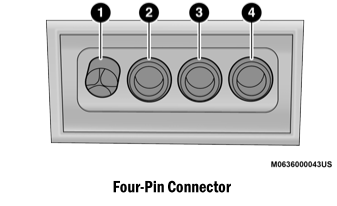 Ground
Park
Left Stop/Turn
Right Stop/Turn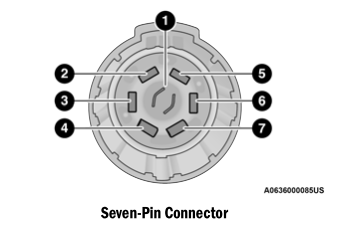 Backup Lamps
Running Lamps
Left Stop/Turn
Ground
Battery
Right Stop/Turn
Electric Brakes
Categories
This feature allows you to tilt the steering column upward or downward. It also allows you to lengthen or shorten the steering column. The tilt/telescoping control is located below the steering wheel at the end of the steering column.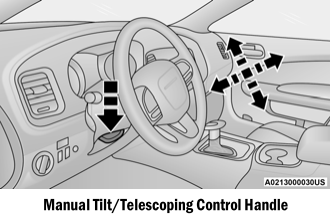 Copyright © 2023 www.docharger.org