Dodge Charger: INTERIORS / Plastic And Coated Parts
Use Mopar® Total Clean to clean vinyl upholstery.
CAUTION!
Direct contact of air fresheners, insect repellents, suntan lotions, or hand sani- tizers to the plastic, painted, or decorated surfaces of the interior may cause perma- nent damage. Wipe away immediately.
Damage caused by these type of products may not be covered by your New Vehicle Limited Warranty.
Cleaning Plastic Instrument Cluster Lenses
The lenses in front of the instruments in this vehicle are molded in clear plastic. When cleaning the lenses, care must be taken to avoid scratching the plastic.
Clean with a wet soft cloth. A mild soap solution may be used, but do not use high alcohol content or abrasive cleaners. If soap is used, wipe clean with a clean damp cloth. Dry with a soft cloth.
Categories
The headlight switch is located on the left side of the instrument panel. This switch controls the operation of the headlights, parking lights, instrument panel lights, and fog lights (if equipped).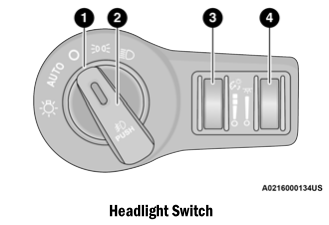 Rotate Headlight Control Push Front Fog Light Control Instrument Panel Dimmer Control Ambient Light Dimmer Control
Copyright © 2023 www.docharger.org