Dodge Charger: UCONNECT MODES / Setting Presets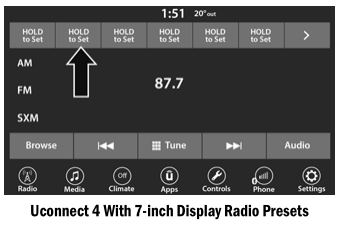 The Presets are available for all Radio Modes, and are activated by pressing any of the Preset buttons, located at the top of the screen.
When you are on a station that you wish to save as a preset, press and hold the numbered button on the touchscreen for more than two seconds.
The Radio stores up to 12 presets in each of the Radio Modes.
A total of six presets will appear on the screen. You can switch between the radio presets list by pressing the Arrow button located in the upper right of the radio touchscreen.
Preset Features — If Equipped
Browse In AM/FM
When in either AM or FM, the Browse Screen provides a means to edit the Presets List and is entered by pushing the Enter/Browse button.
Scrolling Preset List
Once in the Browse Presets screen, you can scroll the preset list by rotation of the Tune/ Scroll knob or by pressing the Up and Down Arrow keys, located on the right of the screen.
Preset Selection From List
A preset can be selected by pressing any of the listed Presets, or by pushing the Enter/Browse button on the Tune/Scroll knob to select the currently highlighted Preset.
When selected, the radio tunes to the station stored in the Presets.
Deleting Presets
A preset can be deleted in the Presets Browse screen by pressing the Trash Can icon for the corresponding preset.
Return To Main Radio Screen
You can return to the Main Radio Screen by pressing the X button or the Back Arrow button when in the Browse Presets screen.
Categories
The headlight switch is located on the left side of the instrument panel. This switch controls the operation of the headlights, parking lights, instrument panel lights, and fog lights (if equipped).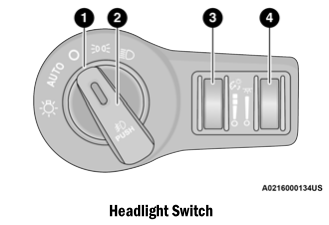 Rotate Headlight Control Push Front Fog Light Control Instrument Panel Dimmer Control Ambient Light Dimmer Control