Dodge Charger: CRUISE CONTROL SYSTEMS — IF EQUIPPED / Activating Adaptive Cruise Control (ACC)
The minimum set speed for the ACC system is 20 mph (32 km/h).
When the system is turned on and in the ready state, the instrument cluster displays "ACC Ready."
When the system is off, the instrument cluster display will read "Adaptive Cruise Control (ACC) Off."
NOTE:
You cannot engage ACC under the following conditions:
When the brakes are applied
When the parking brake is applied
When the transmission is in PARK, REVERSE or NEUTRAL
When the vehicle speed is below the minimum speed range
When the brakes are overheated
When the driver's door is open at low speeds
When the driver's seat belt is unbuckled at low speeds
When there is a stationary vehicle in front of your vehicle in close proximity
Categories
The overhead console is equipped with an ambient light feature. This light illuminates for improved visibility of the floor and center console area.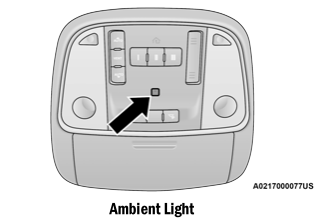 Copyright © 2023 www.docharger.org